Our History
Dosimetrics started in 2013 as a spinoff from the Helmholtz Zentrum Munich, a German Research Center for Environmental Health. Our signature BeOSL System was developed by our partners at the Radiation Physics Group of the Technical University Dresden with Helmholtz Zentrum Munich's Auswertungsstelle​ which is the official personnel dosimetry service for Bavaria and four German states. With nearly 2 million measurements per year, the Auswertungsstelle is the largest provider of dosimetry services in Europe.
In 2003, Radiation Physics Group of the Technical University Dresden was created by the Institute of Radiation Protection Physics which first began in 1957. Over the years, the Radiation Physics Group has become a center of excellence for radiation interaction, radiation transport calculation, and solid state dosimetry. All of these disciplines are essential to our products.

At the end of 2020, we joined Mirion Technologies. In June 2021, we merged with Mirion Technologies (AWST) GmbH. Dosimetrics is now a brand that is a part of Mirion Technologies (AWST) GmbH. Our company is a part of Mirion's Dosimetry Services Division (DSD).
Our Background
Dosimetrics is led by Gerd Ledtermann, MBA, and Dr. Reiner Eßer, nuclear physicist. Mr. Ledtermann's expertise in dosimetry comes from many years of experience as a Business Manager at the Auswertungstelle of Helmholtz Zentrum Munich.
Dr. Eßer is a widely recognized expert in dosimetry with global experience in sales, marketing, project management and training. He has had several positions in the Radiation Measurement and Security Instruments departments at Thermo Fisher Scientific.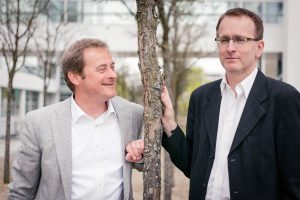 Our Team
Dosimetrics is a young company, however, our international focus has helped us and our expertise grow over the past seven + years. Our team is small but mighty!  We are a diverse set of international colleagues who specialize in production, logistics, marketing, sales and customer service. Also, our specialized IT and RD departments are constantly making new technological developments and are available to provide technical support to our customers.
We speak your languages too! We are fluent and/or native speakers in German, English, Spanish, Russian and other languages. Want to know what we are up to? Visit our Facebook or LinkedIn pages.